JEWELERY WITH HANDLING – SECRETS OF JEWELERS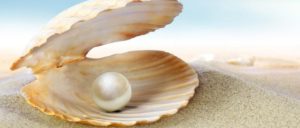 Mother of pearl is a stone of organic origin, widely used in jewelry. It differs in rather low cost, fragility and fragility in operation. Tell us more about the properties and types of mother of pearl, as well as its scope.
Nacre can be called a "relative" of pearls – they have a similar mechanism of formation and the principle of extraction. Certain types of mollusks secrete a special secret, which is called nacre. Sinking on the inside of the sink, he gradually acquires the usual hardness and structure.
Types and features of mother of pearl
Mother of pearl is the finest scales parallel to each other. Between them there is a layer of the so-called biological polymer, which gives the material strength and affects the color. A beam of light directed to the  product penetrates the upper scale and is reflected from the bottom. There is a "rainbow effect".
In nature, the stone has pastel colors, mostly white, pink or blue. Therefore, before further use, nacre is often treated with special solutions with the addition of coloring pigments.
By the way, the color of pearl can be roughly say where it was mined.
1. White – most often India, less often – China.
2. Brown – Philippines.
3. Golden – USA or Mexico.
Red, blue and yellow nacre is obtained after etching, most often such material comes from the countries of the East.
Properties and features in operation
Mother of pearl is not for nothing called the "living stone". It is established that in its composition there is water, which evaporates over time. As a result, mother-of-pearl stones age, lose in strength, grow dull.
Jewelery with mother of pearl – the secrets of jewelersThe stone is difficult to process, therefore artificial pearl is widely used in jewelry. It is obtained from bleak fish scales. Washed flakes are ground into powder, then mixed with gelatin, a mixture of lime and guanine crystals is added for shine. The resulting stone is difficult to distinguish from the natural. Only with a magnifying glass can you find the absence of grooves, which are always present in natural material.
The strength of natural and artificial material can be compared with the core of a simple pencil. In addition, it is very sensitive to various acids. Therefore, products decorated with mother of pearl require careful handling and careful maintenance.
Jewelry with mother of pearl should be regularly cleaned with potato starch or soapy water. In addition, you should not allow the nacre to contact with cosmetics, open fire and acids. In general, connoisseurs of nacre recommend wearing pearl jewelry as often as possible – this increases their lifespan.
Jewelry Applications
Mother of pearl is used in the manufacture of earrings, necklaces, bracelets and other jewelry. Application options are various: incrustation, dusting, mosaic. In addition, mother of pearl can be used as the basis of some jewelry.
Jewelery with mother of pearl – the secrets of jewelersMaterial harmoniously looks on silver jewelry and blends perfectly with pearls, coral, turquoise, malachite. Modern jewelers often fall back on canons and experiment with a combination of stones. Therefore, in the shops you can see the products on which pearl is adjacent to emeralds, sapphires and even opals.
Relatively recently, a new direction in the use of mother of pearl. With it, make a mosaic on the surface of jewelry. To do this, take a miniature plate of mother of pearl in different colors and, using glue or epoxy resin, applied to the substrate. It turns out an original and beautiful decoration.
The cost of nacre is influenced by its size, color, and appearance. In addition, the name of the master who worked with the stone and the complexity of the design is crucial. For example, silver earrings, made by a famous master and having an original form, can cost from 10,000 rubles.
Jewelery with mother of pearl can be found in the catalog of LUX FAIR jewelry online store. Purchase products from popular European brands for yourself and your loved ones!