CRYSTALS SWAROVSKI – STANDARD OF JEWELRY ART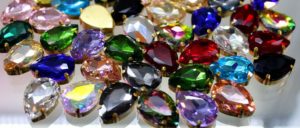 There is hardly a person who would not have heard of Swarovski rhinestones. These stones are decorated with luxury phones and expensive cars, they can be seen on celebrity clothes. Necklaces, earrings and bracelets are also decorated with crystals.
Swarovski Stones is a crystal made by special formulas and obtained an ultra-precise cut. Since 2012, the product contains no lead dioxide, a substance that gives crystal clarity and brilliance. The crystals were called "Advanced Crystal" and were recognized as environmentally friendly.
Why stones are called rhinestones – a brief history
Imitations of natural gems are known from the early Middle Ages, but the purpose of such products has always been associated with fraud. The very name "rhinestones" artificial stones were in honor of the French jeweler and glassblower George Strass.
Rivoli bracelet with Swarovski crystals At the end of the XVIII century, the inventor received glass with strong refraction and bright luster – lead crystal. Georg Straß attempted to use his jewelery to replace expensive diamonds, but failed.
The aristocrats did not accept the "next fraud", and the less well-off segments of the population were not up to knickknacks. As a result, the rhinestones of Georg Strass were forgotten for almost 100 years.
In 1862, Daniel Swarovski was born in Bohemia (the birthplace of the famous "Bohemian crystal"). In his youth, he studied electrical engineering and, at the same time, was a first-class master in cutting crystal.
Studying the work of Georg Strass, Daniel Swarovski drew attention to the lead crystal and thought about the improvement of glass stone. It was obvious that the stones needed a more precise cut and the matter remained for a small one – to invent a productive cutting machine.
Swarovski – from a small village to Marilyn Monroe
In 1892, Daniel Swarovski received a patent for an electric cutter and moved to the small Austrian village of Wattens, where it is building a power station on a mountain stream. As a result, the inventor gets his own electricity and, without being distracted, begins to improve the technology of production of crystal.
Rivoli pendant with Swarovski crystals. Initially, the company was called "A. Kosmann, Daniel Swarovski & Co, then Swarovski. Daniel constantly improved the technology of obtaining and cutting crystal, and by 1911 brought them to the ideal. It is time to enter the world market.
In honor of the French jeweler George Strass, the stones were called "rhinestones". The first Swarovski crystals, received in 1911, were sent to Paris and St. Petersburg, where they created a sensation. Fashionistas of both capitals were delighted, and fashion designers literally flooded the young company with orders. Swarovski rhinestones began their journey to the top of the jewelry art.
In the middle of the 20th century, French designer Christian Dior suggested that Daniel Swarovski develop an exclusive collection of rhinestones. Thus, the legendary stones "Drifting Emerald" and "Fireball" appeared. In 1961, Merlin Monroe appeared on President Kennedy's birthday party in a dress that was decorated with 6000 Swarovski crystals.
Swarovski crystals nowadays
By the end of XX century Swarovski rhinestones began to lose popularity. Developed technology, scientists have developed artificial analogues of diamonds and other precious stones.
Rivoli earrings with Swarovski crystals. By that time, Swarovski expanded its business and began to produce ready-made chandeliers, optical devices, road signs. Most likely, Swarovski rhinestones would be known only to stars, but a talented descendant of Daniel intervened in the situation.
Nadia Swarovski is considered a talented entrepreneur and is known in her home country. She does not have the technique of cutting crystal, but has a strategic mindset. She owns the original idea of ​​advertising rhinestones, which is included in marketing textbooks.
Nadia agreed with the world's leading designers and gave them Swarovski rhinestones for free as jewelry. As a result, sales increased by hundreds of percent, even motorcycles began to decorate with rhinestones, and the whole world learned about the stones themselves.
Currently, crystals are made from 70 different components, some of them are classified. There are about 80 colors and 30 shades in the Swarovski lineup, and there is no number to the cut shapes.
In the online store of luxury jewelry LUX FAIR products with Swarovski crystals are presented in the assortment of the fashionable French brand Rivoli.