Italian jewelers look abroad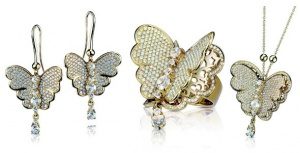 Italian jewelry is known for its high quality and attention to detail. But this significant and historically important layer of national culture and craftsmanship is under threat. After the boom of the turbulent 1990s, the jewelry manufacturing sector entered a long phase of stagnation, followed by a severe crisis. At present, the industry is giving contradictory signals: although many enterprises continue to shut down, others manage to stay afloat in the dangerous waters of the global recession. But for this they need to go through deep changes and open the doors wide for foreign buyers and investors.
The downturn in the jewelery sector in Italy can be characterized by several figures published by the Italian Federation of Jewelry Manufacturers and Sellers Federorafi. In the period 2000–2013, almost a third of the workforce was confused. In 2013, Italy could count on about 9,000 manufacturing companies, in 2000 there were 12,500. Those enterprises that were able to survive were forced to pay a large price in terms of production volumes. Over the past 10 years, jewelry production has decreased by as much as 80%, according to some special reports. The main reason for this is the uncontrolled rise in gold prices, but a reduction in Western markets, which are the traditional place of sale of Italian jewelry, played a role in this collapse.
The national retail sector also suffered from the crisis, but the decline was less – only 7%. In order to reduce losses, jewelry retailers were forced to significantly reduce the quality of their stocks. A lot of cheap jewelery is currently on display in jewelry shop windows in an effort to attract more thrifty shoppers. As a result, the differences between jewelry stores and jewelry stores in Italy have declined, and many retailers sell everything – both.
Access to finance and red tape
One of the hardest results of the austerity regime introduced in Western Europe was the difficulty in getting entrepreneurs access to financial services. Italian companies are in dire need of bank loans to invest in production and resume their operations. In the jewelry sector, many companies have stopped operations simply because they cannot get enough capital at reasonable interest rates to buy raw materials and precious stones or to pay salaries to employees in the first stage, until the money flow starts again.
The jewelry sector was also forced to face the negative influence of a number of actions on financial issues undertaken at the government level. Recently, the country has twice amended the consumption tax, which was raised from 20% to 22% in 2011 and 2013. This controversial decision made in an attempt to achieve a balanced state budget created even more pressure on the luxury goods market. In addition, in order to combat tax evasion, the Italian government imposed a ban on cash purchases worth over € 1,000 in 2012. Although the fight against tax evasion is commendable, the requirements defined by law have been excessively strict, especially in relation to European competitors. Several other countries in Europe have introduced similar laws, and those countries that have done this, for example, France, have set the limit at over € 3,000. The jewelry retail sector has been particularly affected by this legal condition. "How can the government demand that we refuse to pay € 1,000 just because it is made in cash?" – the owner of the jewelry store complains. "We need to encourage buyers to purchase our products, and instead they demand from us to treat them as potential criminals." The limit on cash payment applies not only to residents of Italy, but also to all citizens of the European Union. Non-EU citizens are allowed to pay up to € 15,000 in cash.