Jewelery instead of gold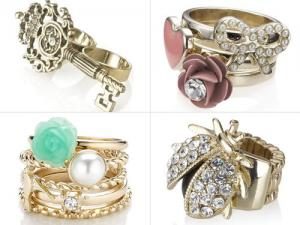 These celebrities include Michelle Obama and Madonna. What brands and why choose Hollywood stars?
Next year, the fashion world will celebrate the thirty-year anniversary of the brand Erickson Beamon, which produces high-quality jewelry. In 1983, designers from Detroit Karen Erickson, Vicki Bea Sarge and Eric Erickson decided to combine their efforts and created a new brand that won the hearts of many famous fashionistas.
The secular public increasingly prefers high-quality jewelry, as the decorations of this brand in the modern world bring the spirit of antiquity.
The combination of new, unusual materials in jewelry and skillful design, fashion legislators had to taste.
Liked the decorations and the first lady of the USA Michelle Obama. The first lady of the country made a revolution in the fashion world, and allowed herself to wear jewelry. From that moment on, the whole world started talking about the brand Erickson Beamon. The decorations of this brand also attract star actors, models and singers.
Movie and showbiz stars always attract attention and are role models. Nicole Kidman, Kate Moss, Mila Jovovich, Cher and many others prefer these jewelery for bright colors and fashionable exclusive solutions.
The brand pays great attention to small details. A necklace with Swarovski crystals, earrings and a necklace of metal and tulle decorated with Swarovski crystals makes the brand recognizable Erickson Beamon. Gold and diamonds of course – this is a classic, but high-quality jewelry is rapidly gaining its position in the modern world.
Recently, jeweler Tom Binns recommended himself in the production of jewelry. He is the founder of trends and sets his style in modern fashion. The CFDA award winner in the "Best Accessory Designer" category proved with his skill that high-quality jewelry can look as good as Cartier or Tiffany & Co diamond necklaces. The most popular adornments of his brand are metal lace items. The jewelry of the brand Tom Binns wears top model Natalia Vodianova and actress Mary-Kate Olsen.
Stylish and practical, slightly crazy jewelry is released by the young brand Shourouk. The young designer Rhaiem created the brand in 2009, its distinctive feature was embroidery and neon shades. Luxury and decay by experienced fashion designers were appreciated by the value. John Galliano and Roberto Cavalli used Parisian brand accessories in their collections.