TOP-5 FASHION JEWELRY IN 2019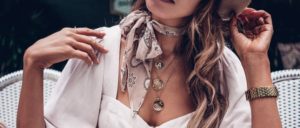 Every year the capricious lady Fashion defines new trends. What has changed this time? We offer you the TOP-5 fashionable jewelry and tell you about current trends in 2019.
Jewelry and costume jewelry have become integral attributes of the image of a woman. In 2019, they cannot be called a trifle or an insignificant part of the onion – decorations come to the fore and attract attention.
Jewelry Fashion Trends
Like last year, pearls remain relevant. This stone literally personifies femininity, elegance and charm. Pearl jewelry is suitable for ladies of any age and can complement many styles and looks. The main thing – to choose the right product.
In addition to pearls, large stones are in fashion. In particular, chrysoberyl or, as it is also called, the cat's eye. Particularly advantageous are the rings with chrysoberyl.
Pearls and chrysoberyl are best combined with silver, so jewelry made from this metal are also relevant. Silver jewelry can be used in both day and evening manner.
If we talk about artificial stones, then Swarovski crystals do not lose their relevance. They fascinate and help create stylish and feminine images, using only one or two jewels.
Particular attention in 2019 was awarded to such a part of the body as the neck. The choice should be stopped on pendants with large elements or classic strands of pearls.
So, we summarize. The following jewelry is in fashion this year:
· Items with pearls – necklaces, earrings, rings, bracelets, brooches, etc .;
· Silver jewelry;
· Jewelry with chrysoberyl or cat's eyes;
· Large pendants and pearl threads for emphasis on the neck;
· Accessories, complemented by sparkling Swarovski crystals.
In addition, the "golden" rules are still valid – no more than three jewelery in one image and not using gold and silver at the same time.
What jewelry is relevant in 2019
And now we will focus on fashionable jewelry in more detail. Experts highlight such jewelry as: bracelets, necklaces and necklaces, pendants, earrings and rings. Let's talk about specific accessories and current style solutions.
Bracelets
Swarovski pearls and crystals remain in trend in 2019. Pearl bracelet is already a classic. Any woman should have such an ornament in her personal collection. It is great for business, romantic summer, casual everyday and evening images. However, for the issue should be considered something more vivid. For example, a bracelet decorated with shining Swarovski crystals with a large pearl in the middle.
Pearl bracelet
Here does not lose relevance the traditional string of pearls. The color of pearls may vary depending on the preferences and image of the owner, but the essence of the jewelry is unchanged. A string of pearls is worn with a business suit in a casual style and fits perfectly with the "little black dress".
Pearl necklace
If the string of pearls cannot be used in any manner, then it is different with pendants. This accessory is almost universal. It is enough to choose the right product for the chosen clothes and hairstyle and voila – a stylish and memorable image is ready!
Pearl Pendant
Since the focus in 2019 is on neck jewelery and rings, be careful with earrings. It is better to stay on the stud earrings or small pendants. Long earrings are not so relevant in this jewelry season.
Rings
The fashion for rings in 2019 dictates the need to decorate the product with large stones or other elements. Like pendants, rings are versatile and, with the right choice of accessory, can be used in almost any image.