Return to dolce vita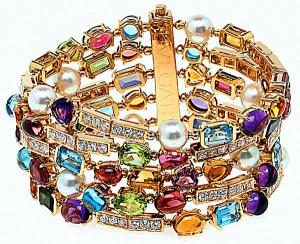 Since then, the brand began other times: watchmaking has incredibly revived, all sorts of exhibition activities began to boil, the house began to acquire its own jewelry of the past years at auctions, and in the future, perhaps, Bvlgari will decide to open some museum of its name.
Especially since it will exhibit in it. This year, the jewelry house first appeared at the XXVI Paris Biennale of Antiquaries, held in mid-September in the Grand Palais. I must say that this wonderful exhibition, which was founded by the Minister of Culture of France in the government of de Gaulle, Andre Malraux, this time attracted not only Bvlgari.
Jewelers from Harry Winston, Boucheron and Chaumet found it necessary to arrive at the Biennale. All of them, like experienced participants like Cartier, Van Cleef & Arpels, Dior, Chanel, Piaget, showed their latest jewelry inventions, most of which were sold out at the time of their presentations.
In Bvlgari, resolutely and uncompromisingly brought to the fore their old, but very powerful muse – actress Elizabeth Taylor, who loved the jewels of this house even at the time of filming the ancient blockbuster "Cleopatra" (Bvlgari supplied the actors with film decorations).
A significant contribution to the development of jewelry Italians made and twice the husband of Mrs. Taylor, the son of a miner and actor Richard Burton. It should be recalled that the time of the 1950-1960s, the era of dolce vita, was extremely fruitful for the development and formation of the so-called "Bulgari style".
This style is characterized by a mixture of colors, stones, cut-outs, a riot of colors, a very tough composition and decoration design. Later, this style was somewhat devalued, blurred – it happened in the late 1970s, at the time the brand entered the American market. The 1980s-1990s Bvlgari jewelery looks much simpler, more pragmatic and soulless than the delicious, sincere things created during the dolce vita.
Now, most likely, in connection with joining the LVMH ranks, Roman jewelers can afford to return to the "Bulgari style": and the fact that such a stylistic and ideological return occurs is indicated by the jewelry that the brand showed during the Paris Biennale.
Here and many-tier necklaces of yellow gold, with lapidary antique emblems, with a variety of precious and semi-precious stones in different cut.
These are marvelous, huge flower rings with the brightest precious tapeworms in the center. This is of course the legendary gold, with the most sophisticated decoration, watches and bracelets in the shape of swirling snakes. In a word, it was a majestic, strikingly classic "Bulgari style" of the European aristocracy's sunset era: the only thing surprising is that this style was revived by the same person who once – for the sake of the tastes of the American public – and reduced it to nothing. Francesco Trapani, the permanent CEO of the brand.