How to choose jewelry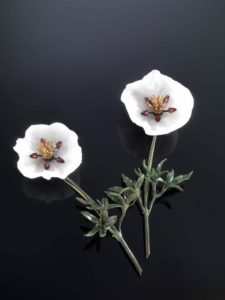 Do not wear too much jewelry at once. Despite the fact that jewelry is sold in sets, you should follow the "rule of three" – no more than three jewelry at a time. The larger the jewels, the smaller they should be. Remember that everything that you wear at a certain point should ideally be combined with each other in color and style.
The main rule is not to mix several metals in one image. Precautionary should combine precious and semi-precious stones. It is best to choose minerals of the same price level. Transparent sparkling stones can be combined with opaque stones of even color, but only on condition that they are set with one metal.
Jewelry should be perfectly combined with each other and complement your outfit. It is important to pay attention to the color of clothes when choosing jewelry. Jewelry made of silver, white gold or platinum with transparent stones will best fit to the bright colored dress. Colored gems look great on clothes of warm shades, and iridescent opaque stones look spectacular on a purple, blue or green background. For ceremonial receptions and social events, stylists recommend wearing long earrings, wide bracelets, massive necklaces with minimalistic dresses. With motley outfits, discreet, simple jewelry will look appropriate: a narrow ring and bracelet, pendant, brooch or pearl thread.
Choosing jewelry, it is important to consider your age. Young girls can safely wear bright, large jewelry with multi-colored stones, decorated with fabric, fur or leather. For business women suitable expensive and discreet jewelry with precious stones and pearls. More mature women to face earrings and rings with expensive inserts.
Jewelry should also be selected in accordance with the color of eyes, skin and hair. Silver and white gold with pearls, rock crystal, turquoise, rose quartz, opal or onyx will ideally play on the golden, tanned skin. On white skin, motley (jasper, agate) and cold (tourmaline, ruby, lapis lazuli) stones look great. Blonde women face delicate shades (coral, moonstone, pearls, turquoise), redheads – purple and green (malachite, emerald, amethyst), brunettes – warm shades (onyx, amber, jade).
Choosing earrings, pay attention to the shape of the face and hair. Owners of slender neck or elongated face, you can safely choose flowing earrings. The studs or droplets will fit the rounded face. Massive rings and rings look good on large hands. For elegant long fingers it is best to choose a thin bezel of gold or silver with a gentle scattering of stones. If you prefer to wear a few rings, remember that they must be combined with each other in style and metal.
Of course, there are exceptions to any rules. The main thing in the selection of jewelry is to follow your own taste and inner mood, and these recommendations will help you make the right choice.