Triumph of feeling over calculation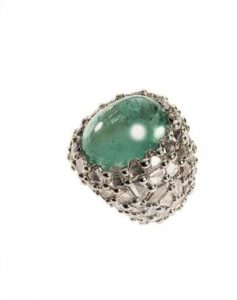 Meanwhile, in fact, Pomellato is a house that became famous for the more budgetary and "daily" class of jewelry pret-a-porter – and suddenly, almost ten years ago, it came up with such a strong, unexpected and loud precious "blow." Since then, the Pom Pom collection is annually enriched with new and rather complex jewels: the manufacturing process is moving gradually and takes more time to create than other Pomellato jewelry.
Next week, Pom Pom presents freshly juicy, brilliant and artistically clever things in Moscow stores of a noble brand from Milan: Russia's high jewelery jewelry debut will be devoted to the 15th anniversary of being at home in the Russian market (Andrea Morante, the powerful functionary of the luxury goods market, will visit Moscow ). So, what are Pom Pom things? First of all, it is interesting how in these abundant, languishing from sensuality, baroque things, you can find the DNA, find the codes Pomellato, the brand of a very slim, dynamic, extremely collected? Is it possible to find? But you can. And this search path, this very artistic detective story, will be curious.
In Pom Pom things, Italian harmony, this historical essence of Pomellato, suddenly, suddenly, as in the old wonderful Italian theater, turns into a magnificent, disintegrating from its triumph, from feeling its own precious hot hot perfection in a new complex form. Pom Pom jewelery — and these cocktail rings and large long earrings — are abundant, fiercely generous with the colors and stones offered. Here and turned green beryl, filed as a huge cabochon, surrounded by diamonds. Here and the mysterious, emotionally fragile, but at the same time courageous transparent aquamarines – also in the strange dance of white diamonds. Here, colored (pink and orange) sapphires, shimmering and joyful, framing a single majestic opal, this mystery stone.
Each piece of Pom Pom Pomellato is collected on a lively artistic thread, on a thin nerve, on Italian creative taste, and therefore the jewels look even more amazing. This rare stuff, thought out, but also sensitive, dramatic, but also reconciling everything and everyone with their own beauty. This is the answer to the question of how the "slender" designers of Pomellato, who became famous for making precious chains and the laconic line of Nude rings and earrings, manage to perform so successfully in a lush baroque register? Pom Pom Pomellato jewelry is the only time when emotions take one hundred percent of the usual technical calculations, becoming the only possible precious mathematics. The exceptional harmony of these jewels is precisely in the emotions, in the Italian creative muddle and inimitable sensuality.